Shaping fantasy
into reality
Thieu Smeets is living and working in Amsterdam.
As he was growing up in a family of artists, going to the art academy felt like a natural step. After studying at the Gerrit Rietveld Academie
he continued his journey of becoming a visual artist.
Trough the years he developed a rich three dimensional vocabulary
with a specialisation in working with metal.
A craftsman with a intuiitive way of working that shapes fantasys into reality.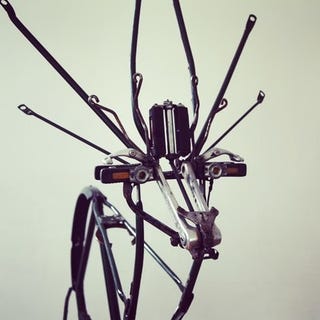 Recycling objects and materials is what can characterizes Thieu's technique. This way he looks at something existing and sees it for something different and new. He transforms it in to a new shape and gives it a deeper meaning.
Therefor, he gives found and abandoned bikes a second life. Inspired by, and using their existing forms, figures and mythological creatures arise as reincarnations.